The Justice Administration Research Association, based in Limoges, France, is an independent not-for-profit scientific association that aims to develop an international network of academics, policymakers, and professionals working in the justice administration sector.
The JAR-Association — Presentation
The Inaugural Conference of the Association Innovation in Judicial Systems: Human, Cyber and Beyond will be held in Rome on 25-26 May 2023.
Recent societal and economic developments have added a new element to the relationship between the law and social reality, and courts and prosecutor's offices are required to step in and provide answers to open questions and societal debates within a recourse sought to the very same open norms. Codifying new societal, organizational, and economic perspectives brings challenges to the judiciary, which in its turn requires reforms to settle these new dynamics, where humans still play and will play a paramount role.
Technology is also becoming a pervasive element of society, and justice services are not secluded from this development. Beyond the tool function technology has played for court management and automation of certain administrative processes, emerging technology applications (e.g., AI, algorithms, Big Data, Blockchain, automatic data collection, software profiling, draft decision suggestions, etc.) give rise to new challenges to traditional justice values and principles that have been in place for hundreds of years, and at times pushes to change them in line with technology characteristics. Technology-backed changes require reflection on how justice is being transformed from a legal, organizational, and ethical perspectives, what are the strong and weak points to consider in this process, and what are the desirable outcomes to aim for.
The 2023 edition of the JAR-Association Conference aims to encourage discussion on these developments and create a space for reflection on the fundamental changes and challenges social, organizational, and technological innovations pose to law, judicial organization, justice services, governance, and stakeholders.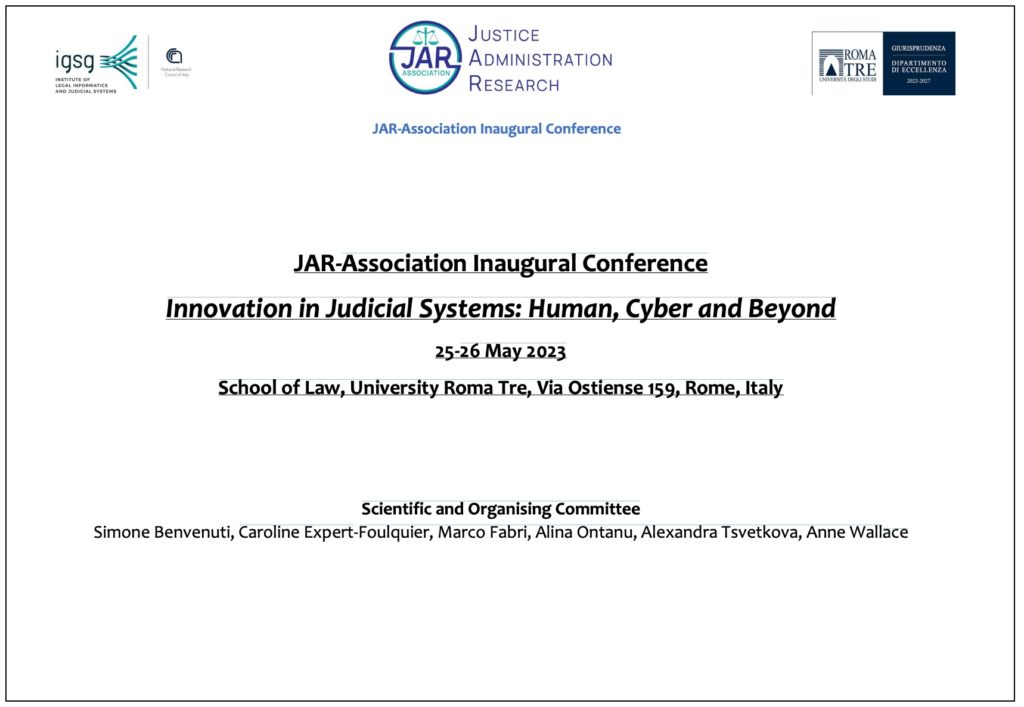 torna all'inizio del contenuto